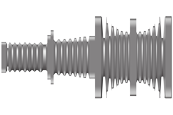 Wellons selects the size and type of turbine-generator according to stringent specifications. We are experienced with small backpressure turbines and larger condensing turbines as well as the condensing-extraction units typical of cogeneration systems.
When appropriate, Wellons will locate and procure used turbine-generator equipment suitable for the project. Our service includes removal and storage, technical direction, and complete repair and reconditioning; as well as electrical and mechanical inspection and testing.
Used turbine-generator equipment is totally dissassembled, inspected in accordance with Wellons' high standards, repaired as needed, aligned, reassembled, and then thoroughly tested.